For many years my dad had suffered with ankle pain,
but as time went on it became steadily worse, on a daily basis the ankle would swell up to double its size during the day only to return to normal size during the night. Multiple doctors were consulted and the general consensus was that he had arthritis of the ankle and that the only thing they could do is start a course of pain management, which mainly consisted of daily maximum doses of osteo paracetamol and limiting walking. This was not an option that my father wanted to have to do for the rest of his life so he started looking for an alternative that would hopefully relieve the pain permanently. After much research it seemed that ankle surgery could be a potential solution, so since my father has private health cover he decided to get a referral from his GP to an orthopedic surgeon who specialized in ankle surgery to discuss whether he would benefit from surgery. The following is a detailed account of his journey, starting with the first consultation with the surgeon through to final result of his ankle fusion surgery.
Find a Surgeon
Before anything could get started we first had to find a surgeon, my dad's medical clinic was able to supply a list of surgeons but this wasn't very helpful as most orthopaedic surgeons do not specialize in ankle surgery, so after many phone calls a surgeon was finally found. In an effort to help you with this first step you will find a list of surgeons specializing in ankle surgery in the doctors page of this site, this list is by no means a list of all surgeons and you may find a surgeon in your area to do your surgery, the list combined here contains surgeons who are a member of the foot and ankle society of Australia.
Once a Surgeon has been found then the next step is to book the first consultation, and work with your referring GP to organize x-rays of your ankle. One thing that you will need to know is in what format and position your surgeon wants to see the x-rays, the preference of my father's surgeon was to have the x-rays on film, he would not entertain x-rays on disk. The position of your x-rays is also crucial, my father took weight bearing x-rays and his surgeon then asked for non weight bearing x-rays as well, in an effort to make your first consultation as easy as possible could I suggest you take both types of x-rays.
First Consultation
After meeting the surgeon and describing the trouble with his ankle the surgeon looked at the x-rays and checked my dad's ankle for alignment. His initial assessment was that ankle surgery would be beneficial for my father's situation. He then outlined the two options that were available, ankle replacement or ankle fusion. Many questions about the procedures ensued with the outcome being that a decision on which would be best was up to the individual patient. A request for more x-rays and a second booking was then made.
For a detailed explanation on both types of surgery please read the surgery page.
Decision time
After much though and some more research into the benefits of each surgery the decision was made by my father that ankle fusion would be the best. Although ankle replacement would give more movement back to the ankle the fact that long life of the replacement ankle joint was under a question mark, potentially as little as 5 years, and more surgery would be needed if it failed was not appealing
Second Consultation
So after reviewing the non weight bearing x-rays and discussing the decision for fusion surgery with the surgeon, discussions turned to setting a date for the operation and what would be involved.
The surgery would be carried out under a general anesthetic and would take about 2-3 hour this would require at least 2 days in hospital. A CT scan of the ankle would also need to be organized before the surgery so a referral for the imaging center was provided by the surgeon. My father had some concerns about going under general anesthetic so a checkup by a second doctor was organized to assess any health risk. After getting the all clear from the second doctor a date was set for surgery.
Day of Surgery
Day of surgery had arrived and it was an early check in to the hospital. First was a meeting with the general admission nurse who took all my father's details, then a meeting with the Anesthesiologist, he explained that he would be performing an ankle block, this is a procedure which deadens the major nerves of the ankle, and would mean that a lighter general anesthetic could be used. After some more checking from the nursing staff to make sure all information was correct my father was admitted to the general holding area to wait for the surgeon to come and see him. While waiting for the surgeon my dad's foot was placed in a heat bag to warm it up before surgery commenced. After having a short meeting with the surgeon my father was wheeled into theatre for the surgery, 3 hours later surgery had been completed and he was placed in a room for recovery. When we finally got to visit him in the afternoon he was still pretty groggy with all of the pain medication and his ankle had been placed in plaster cast and was elevated on pillows to help with fluid drainage. The long road to recovery had now started.
2 days turn to 4 days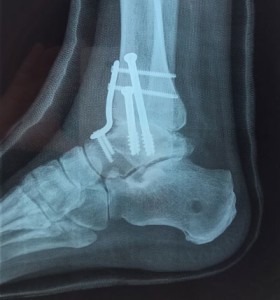 Day after the surgery and everything is on track, the ankle block has worn off without any complications, pain levels are being managed well and blood thinners have been started to help prevent potential blood clots in the ankle. The nurses are taking regular checks of blood pressure and oxygen levels which have been slow to recover, this concern over oxygen level recovery would lead to an extra 2 days in hospital. Day 2 and the nurses have my dad up trying out crutches and walkers to see which will be best to aid in his mobility during recovery. My dad settles on the walker as it makes it more stable for him to move about, crutches will be more useful later in recovery as he gains strength and the ankle heals.
So after 4 days in hospital and with the nurse's checklist all satisfied release day has arrived, prescriptions for pain killers and blood thinners have been filled by the hospital pharmacy, we are able to hire the walker from the hospital for 2 weeks which will be a great help. So with all paperwork signed and walker in hand my dad is into a wheelchair for the ride to the car and journey home.
Home Day 1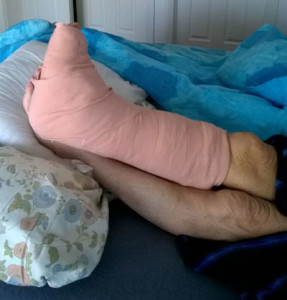 Arriving home the search begins for a wheelchair, a minimum of 2 weeks will be required. It becomes apparent very quickly that there is a wide range of prices for wheelchair hire, most of which are ridiculously expensive, eventually I find a hire company and a wheelchair is procured. For an extra fee you should be able to hire the leg rest which enables the person to rest there leg in an inclined position, these attachments come in left and right side and was a great aid for my father.
Settled in at home my dad now has 2 weeks before having to go back and see the Surgeon, he has pain killers for 4 weeks and blood thinning injections to take for the next 6 weeks. His only concerns are to rest and keep his leg inclined which with a heavy plaster cast means resting it on pillows. Before returning to the surgeon he needs to have x-rays of his ankle taken, but for the moment that's a tall ask and 12 days away.
Surgeon Visit 1
16 days have passed since the operation, pain levels have been comfortable and my dad's mobility has been helped greatly as his mastery of the wheelchair increases, the walker has been mainly used to get to and from the bathroom and into places where the wheelchair will not go.
Today we are in the surgeon's office for the first progress visit, after looking at the x-rays and checking my days foot he is happy with the progress, this means the plaster cast is off and a fiberglass cast can be applied. It is not a weight bearing cast but the lighter weight will make it easier to lift the leg into a raised position. Medications progress on as normal, a request for more x-rays and a follow up visit in 4 weeks is requested, so a booking for a return visit is made and off on the journey home we go.
With the removal of the plaster cast it means that the wheelchair is not needed as much and is returned to the hire company, the walker and crutches now become the major mobility aids. 4 weeks after the hire of the walker it is no longer needed and it is returned to the hire company. Crutches and a walking stick are now needed to get around.
Surgeon Visit 2
44 days have passed since the operation, pain levels have remained comfortable. My dad has now finished all pain medication and is no longer on blood thinners and his mobility has increased as time has gone on. With another set of x-rays we are off again to see the surgeon.
Looking at the x-rays the surgeon is very pleased with the progress so far, time has come to remove the existing light weight fiberglass cast and replace it with a more robust weight bearing fiberglass cast. This cast also has a strap on shoe with a rocker heel to aid in walking. This cast will remain in place for another 4 weeks after which another return visit will be required. A CT scan of the ankle will be required for the return visit, another booking is made and of home again we go.
Surgeon Visit 3
72 days have passed since the operation. My dad is very happy with the reduced pain levels and has been getting around quite well with the use of his walking stick. The only place which has given him pain has been his heal, this is probably due to the healing of the bone graft, this is eased by some additional foam padding under his heel. The fiberglass cast has held up well but has a habit of causing pain on the front of the shin just below the knee, a shrinking calve muscle due to reduced mobility has not helped either. CT scans have been taken and a return to the surgeon office is set for today. We are hoping that today will be the last of fiberglass casts and into a support boot.
After arriving at the surgeon's office the fiberglass cast is removed and progress discussions with the surgeon begin. After consulting the ct scans he is happy with progress saying that the fusion is progressing nicely and is about 80% complete, my dad can now move onto his support boot which needs to be worn for the next 4 weeks, a return visit and more x-rays are required then. Another booking is made and home again we go. Moving from the cast to the boot means my dad can final wash his foot which after 72 days is in a rather shabby state, as well as make it easier to shower as you are not able to get either plaster or fiberglass cast wet.
Surgeon Visit 4
Another 4 weeks have passed so that makes this day 100 and hopefully this is the day that will see goodbye to the walking cast boot and back into shoes. After examining the x-rays the Doctor proclaims that the break is fully fused and a quick check of the ankles flexibility is conducted. Everything checks out and the Doctor is very pleased. So the advice for going forward is to move into shoes when feeling comfortable and slowly build up walking. Some swelling will be normal to start with and this should be fully under control and back to normal in about 6 months. So a follow up visit is required in 6 months to see that everything is looking normal and that there is no irritation from the screw heads. It seems that in some cases the screw heads can become a problem and about 1 in 10 have the screws removed.
Last edited by
on